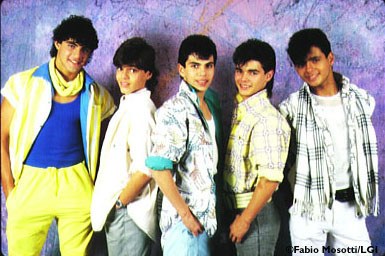 From left to right:
Charlie Masso, Ricky Martin, Raymond Acevedo, Sergio Gonzalez, Robi Rosa
Menudo was a Puertorrican teenage group that revolutionized pop music in the 80's (spawning lots of copycat groups like "New Edition" And "New Kids On The Block"). The rule of Menudo was that when you reach a certain age, you had to leave the group. This helped keep the group as a "teenage group" since its members were always teenagers. The group started in 1977 and it still exists today, though recently they changed their name to MDO, to make the group fresh for the nineties.
Though the new group is not the amazing phenomenon that it was before; now, 15 years after the group best years, Menudomania has struck again. Six of the most popular ex-Menudos have reunited in "15 Anos Despues... El Reencuentro" and gone on a tour all over America, reviving all the nostalgia in their old fans with a wave of Menudo Stuff like some of the old Vinyl Albums re-released in CD and getting the attention of everybody with six sold out concerts here in Puerto Rico and a live album from the concert.
In the picture above is the group circa 1986. At the time of this picture they were promoting their album "Refrescante". Mostly all of the members of this incarnation of "Menudo" still are in the show business:
Charlie Masso started as a solo artist and soap opera star. After that he became a member of the tropical music group - "Kaos". Now he is very busy touring over Latin America with "El Reencuentro"
Ricky Martin has become the most successful Ex-Menudo, has four records (two of them produced by fellow ex-Menudo Robi Draco Rosa). He was in the soap opera "General Hospital" and in the Broadway play "Les Miserables". He's one of the biggest solo acts in latin-american music. He was the star of the closing ceremony of the Soccer World Cup in France.
Raymond Acevedo leads a private life.
Sergio Gonzalez has been trying to make it with 3 pretty good, but very comercial (Bon Jovi style) album. He has also stared in some Mexican soap operas.
Robi Rosa has appeared in some movies, including "Salsa" which he co-starred with Angela Alvarado; the woman who would become his wife and mother of his son, Revel. He was in some rock bands, including "Maggie's Dream" with whom he recorded an album; and he has two solo records. He's established himself as one of the best Latin Rock performers with his powerful music and poetic lyrics.
Click
here
to see some old Menudo pics
Menudo was and is a great group and we Puertorricans are proud of them. I'm working on a page all about them, since I think there isn't anything about them in the web, if you are a Menudo fan, and think you can help me make this page or if you have a Menudo page, please e-mail me at
Pescue@geocities.com
. Keep checking this pages for future information.