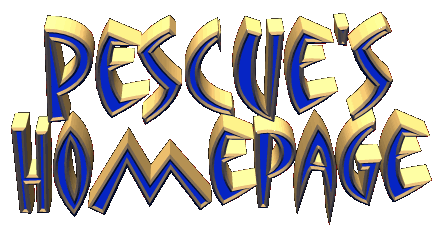 Hi and Welcome to my page! My name is Fernando, but I'm better known here on the net as Pescue. I'm from the beautiful island of Puerto Rico and I'm an Electrical Engineering student at the Polytechnic University of Puerto Rico. In this page you'll find about my interests and hobbies and some other stuff. I like to know what people think of my page, so please take some time to sign my guestbook!
What's New:
| | |
| --- | --- |
| 11-11-99 - | Added the pics of the San Diego Comic-Con to the pics of my trip to Mexico. you can see them here. Also, a major update to the Fraternity page, which you can see here. Enjoy and don't forget to sign the Guestbook!!! |
| 08-20-99 - | Added the pics from my recent trip to Mexico and San Diego. You can find them right here. There's more coming soon!. Hope you like them!!!. |
| 07-31-99 - | At last I fixed my modem (it was broken, I didn't have internet access for about 2 months!!!) and though I don't have a lot of time today I updated the links page, and I'm working on some other things too. Enjoy! |
| 02-14-99 - | After a year and a couple of months I completely redesigned the page, this is the third time since this site is up I've done this, but you can still see how the page looked before by clicking here. I hope you like the changes I made and all the new things I'll be adding soon. Enjoy!!! |
This is what you'll find here:
About Me: Well, I think you can figure that one out for yourself :-)

Music: This is where you'll find about all my favorite bands and artists.

Alpha Omicron Sigma: This is my Fraternity's Page (BTW, it's in Spanish)

DC Heroes: A little page about my favorite Superheroes.

Links: Go to all my favorite sites!

Guestbook & Webrings: Here's where you'll be signing my Guestbook!!!

---

This site is always under constant construction!!!
This page has been visited
times since September 7, 1997
To view this page as intended download the FONTS. E-mail me at pescue@geocities.com